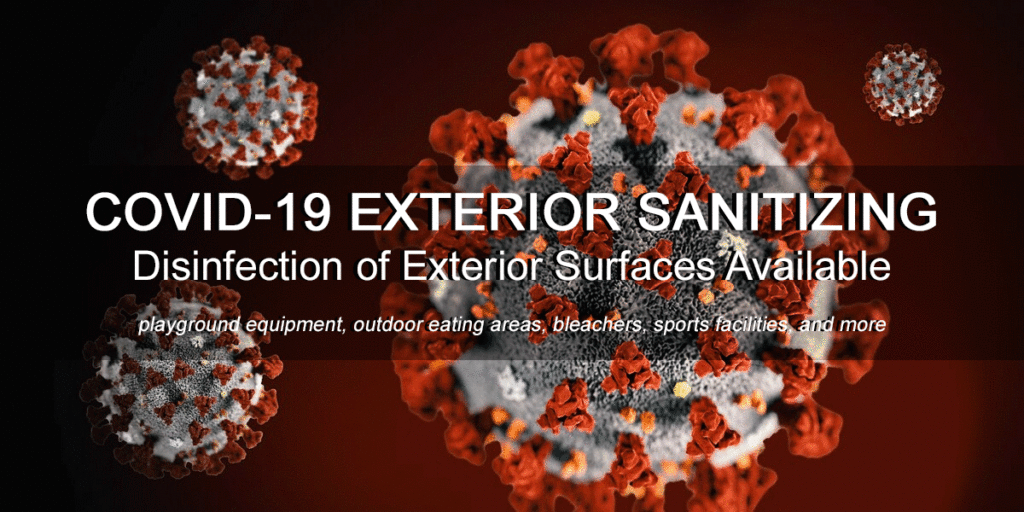 Our thoughts and prayers go out to all who have been affected by COVID-19, and for the continued safety of everyone.  The health, welfare and safety of our staff and customers are priority.  We are closely monitoring and implementing the advice and guidelines from the CDC, WHO & OSHA. 
Exterior Sanitizing & Disinfecting Services in Greater Atlanta and North Georgia
We are available to assist businesses, schools, government entities, property managers and homeowners in minimizing exposure to COVID-19. Our cleaning protocols are updated as new information and data becomes available to the EPA on products that have qualified for use against SARS-COV2, and the novel coronavirus that causes COVID-19. Our staff has been properly trained on the EPA's Emerging Pathogen Standards, the use of approved disinfectants and the strict protocols to ensure effectiveness on exterior surfaces affected by a pathogen outbreak.
Exterior Surfaces that May be Contaminated by COVID-19
Playground Equipment
Bleachers
Outdoor Eating Areas
Outdoor Seating Areas
Outdoor Common Areas & Buildings
Fences and Gates
Mailbox Kiosks
Multi-Family Housing (Duplexes, Apartments, and Condominums)
If you believe that your facility may have been exposed to COVID-19 or would like to implement an exterior disinfecting regime to protect your customers, call 706-525-1628 or email us at service@jmartinandcompany.com.
We are available for site visits and phone consultations.